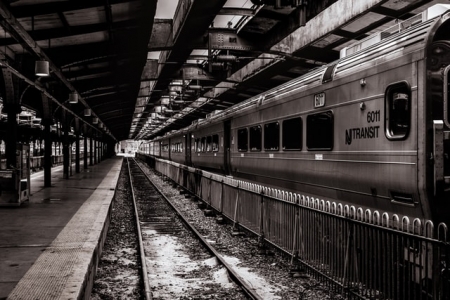 Nearly 16 years after advocates for wheelchair users first demanded access to the Grove Street PATH station, crews are putting the final touches on the station's new elevator. The $4,000,000 elevator, located at the corner of Grove Street and Columbus Drive, is set to open on July 2, according to the Port Authority of New York & New Jersey (PANY&NJ). Construction began in the spring of 2015.
James Weisman, CEO and president of United Spinal Association (USA), one of two groups - the other being Heightened Independent and Progress (hip), that sued the PANY&NJ over the station's wheelchair inaccessibility, called the addition of the elevator "a life-changing event" for wheelchair users.
On average about 17,000 PATH riders use the Grove Street station daily, making it the fourth most used station on the New Jersey side after Newark, Hoboken and Journal Square, and the sixth system-wide. About 3,000 more people use the station now than they did in 2012, according to the PANY&NJ.
The PANY&NJ has defended the two-year construction schedule by saying crews worked on the elevator during non-peak times so the PATH system would not be disrupted. Night work was also limited because the station is located in a residential area, the agency said.
The controversy began around 2001, when the PANY&NJ said it would construct a Marin Boulevard entrance to the Grove Street PATH station, one of 13 stations on the rail line. The two organizations, represented by the Community Health Law Project (CHLP) in South Orange, told the PANY&NJ that federal law required them to build an elevator at the station. The Marin Boulevard entrance opened in 2005 without one.
USA and hip, represented by CHLP, sued the PANY&NJ in 2007, alleging the PANY&NJ, by not including an entrance for people in wheelchairs, violated state and federal laws requiring access for the disabled. In September 2011 a federal judge ordered the PANY&NJ to make the station wheelchair accessible.
The PANY&NJ and the two parties settled in June, 2014 when the PANY&NJ agreed to build the elevator that is set to open. The elevator will take riders to the concourse level and then a lift will take them to the platform.